Oktoberfest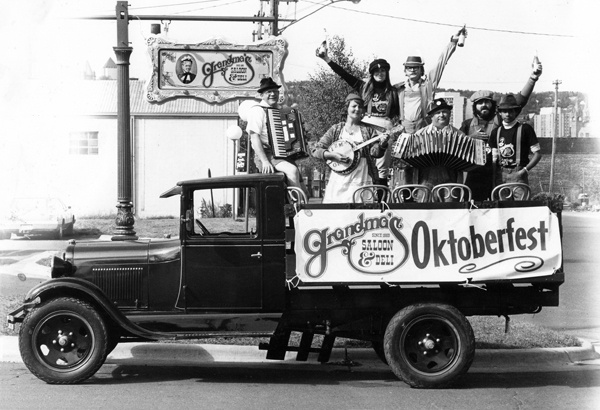 by Grandmas

Comments are off

August 04, 2015
October 31, 2015
A TRUE CRAFT BEER CELEBRATION – GRANDMA'S 40th ANNUAL OKTOBERFEST
The greatest craft brew celebration in the region is about to kick off in Canal Park… again! It is the 40th annual Grandma's Oktoberfest starting Wednesday, September 23 at Grandma's Saloon & Grill in Canal Park. That's right. This is an all-out beer fest surrounded by authentic German food, fun, and music.
With true authenticity, Oktoberfest in Canal Park is decorated in the German spirit and features German food, drink, dress and entertainment. The looks, smells and tastes come from seeing the real thing in Germany. "It is the closest you will ever get to Germany without leaving the country," Brian Daugherty, Grandma's President boasts. "The staff goes out to 'harvest' all the gourds, pumpkins, cornstalks and fresh foliage from local farms and converts the entire restaurant to a magical Black Forest."
Starting on Wednesday, September 24, Grandma's Saloon & Grill will bring out the kegs of specially brewed German beer, some with original recipes over 400 years old. Literally, you are drinking a pint of history. There will also be a number of regional Oktoberfest brews – If you don't know which ones to taste, try an Oktoberfest flight of beer!
Grandma's Saloon & Grill spares nothing when it comes to feeding the crowd. They have an extensive German menu which features items like the Schweinschnitzel, German Bratwurst, the Sauerbraten Dinner, assorted German breads and homemade apple crisp. It does not stop there, however, as Grandma's Saloon & Grill keeps it coming with a full menu of German favorites served.
People who are of age compete in German beer drinking contests, people with a knack for dance compete in polka contests, and anyone can compete in the stein holding! Not that Grandma's Oktoberfest is about competition; it is all about having fun with family and friends, old and new alike.
While you're dining or stopping by for this once-a-year beer and menu, you can also enjoy live music by the "Wurst Band" who perform each day beginning at noon and do various shows throughout the day.
This year's Oktoberfest Grand Marshal will be handing out free beer coupons in downtown Duluth during the Oktoberfest parade, and participate in the tapping of the first keg on Tuesday, September 22nd, 24 hours before opening day. Be sure to be on Superior Street by 11:30 a.m. to get your beer coupon! The Grand Marshal's duties also include guest judging of the rousing nightly competitions.
So come for the beer but stay for the food and fun, and celebrate Oktoberfest with Grandma's Saloon & Grill this year during the last week in September. Then, the celebration continues all month with a "Taste of Oktoberfest" menu available at all Grandma's Saloon & Grill locations the entire month of October.